Casino Saint Nectaire is open daily from 11am, it lies at the heart of the city.
Being a place of entertainment around the gambling remember that entering a casino is reserved for a major public. Your ID card may be requested, proper attire is required.
Games
50 slot machine (of 2 cents to 2 euros)
A ball
Poker tables
Black Jack
The restaurant
Name of establishment : Good Map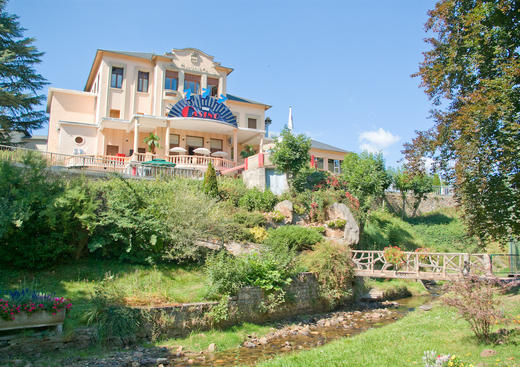 The casino has a restaurant 120 covered which offers three formulas, you can choose a la carte menu. Forms are available every day except Sundays and public holidays. In summer you can enjoy the terrace of the casino to eat a local meal in a pleasant and why not Saint Nectaire.
A famille, friends, for seminars, private parties, banquets… Do not hesitate to book.
Animations
The casino hosts several monthly evenings in his theater, a bar scene, which hosts : Concerts, theater, gala, weddings, tea dances, birthdays…
It is possible to rent the room personally or for your business, for a festive event or seminar room can accommodate up 120 people. It is equipped with a full sound, an internet connection and a projector.
Program : Buffet spectacle, Theater of laughter, exposure Pesso, Women's Day, Sancy Snow Jazz, Saint Valentin,
Contact details
Address : Rue du Casino, 63710 Saint Nectaire The West Netherlands
Phone : 0473885471
website : Casino de Saint Nectaire